Yü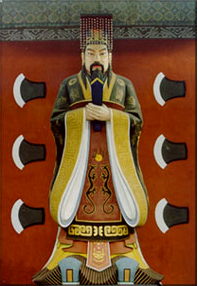 Da Yü(大禹), surnamed Si, also known as Da Yü, Xia Yü, a hero of ancient flood control.
In ancient times, people suffered from flooding. Emperor Yao began to use Yü's father, Gun, to control the flood. Gun built dams and dikes in case of floods; however, the floods haven't been controlled for nine years. Shun, Yao's assistant, saw that he had done nothing to control the flood, so killed Gun in Yü Mountain.
Shun ordered his son Yü to continue to control the flood. Starting from Jizhou, he traveled all over Jiuzhou (a name for ancient China) for field investigation and decided to adopt the method of dredging flood according to the situation.
At that time, floods also plagued Shaoxing, known as the land of famine. When Da Yü came to this wild land to control the flood, he dug mountains and dredged the flow, and introduced the water into the East China Sea, making this shallow sea swamp land become a plain again, enabling the people to engage in cultivation for a living. Da Yü once married Tu Shan in Shaoxing. Only four days after they were newly married, Yü left home to control the flood. In the following thirteen tears, he passed home three times without going in. The selfless spirit of "passing home three times without going in" and the spirit of hard work and devotion to the public has been passed down as a for thousands of years. It has become an important part of the spirit of the Chinese nation.